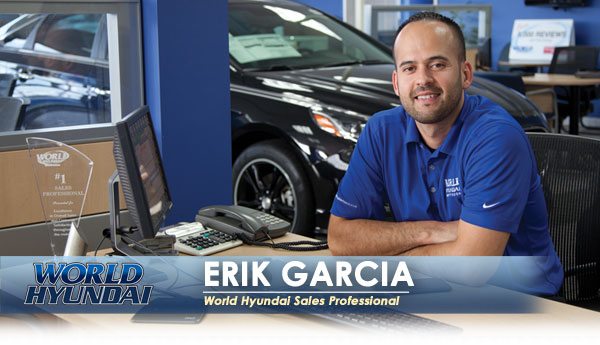 Erik Garcia was born and raised in Chicago, IL and comes from a family that includes him, six brothers and one sister. Erik has been working in customer service since he was 9 years old helping his father out at his restaurant. Erik has been selling cars since 2003 and has since been in love with the car business.
On Erik's time off, he enjoys playing pick-up basketball games and spending time with the people that mean the most to him. Erik loves selling cars because he knows that he is helping people get transportation to get to and from wherever they need to go. And ironically, Erik doesn't even own a car! In 2003, Erik walked into a dealership with the intentions of buying a car and walked out with an application instead and as he says, the rest is history.
Erik Garcia is the #1 salesman at World Hyundai Matteson! If you would like to contact Erik Garcia, you can reach him at (708) 983-6500 ext. #551.